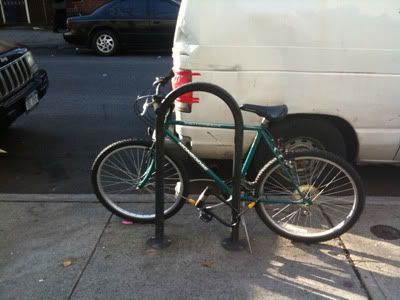 I spend about $150 a month on groceries...
and this bike is worth slightly more than that. had I not been on my way to a job interview, I would have lifted it right off of the U and ridden it into the city. just because your bike can buy me a month of groceries, doesn't mean you shouldn't lock it up properly. this is what I like to call a Copperfield lock-job. yes, I like a magic show and that is just what this is. although, I don't see the
magic
in lifting a bike off of a U. while I'd like to assume this rider is a) blind, b) over the age of 95 and/or c) David Copperfield... I have to simply assume that they were in a big hurry and didn't notice that their bike isn't really locked up. any would-be swiper could walk right by and a) cut the cable, b) lift the bike off of the U and attempt to ride it home w/ the cables stuck in the tires and/or c) set a hat out in front of the bike and perform a magic show for all of the kiddies in the neighborhood. what should this rider do next time? slide their u-lock around the U and then use their cable to secure the wheels. NEXT!!!

they say finding a 4-leaf clover is rare...
but even more rare is seeing a cable and a chain and a min-u lock used in sync with one another. most of the time I pass right by cable lock-jobs, but this was a combo that gave me a little
twinkle
in the eye. not only did this rider take the time to use their chain to secure down their frame and front wheel, they also used a cable and mini-u lock for the rear tire. while a would-be swiper could cut the cable and swipe the rear wheel... they would have to break some spokes to remove that mini-u on the back. I personally carry a mid-sized u-lock and the mini-u lock from my chain when I feel extremely lazy. it works well enough to deter the swiper from attempting to swipe anything. what could this biker do to make their lock-job even better? pull up the slack in their chain. NEXT!!!